As you learn different languages on Busuu, you'll encounter new letters, accents, and even completely new writing systems!
Latin-script alphabet
When you're on our website, we'll show you extra keys you might need with an on-screen keyboard.¹

If you're using our app, tap and hold a key to see its accented forms. For instance, if you need 'œ,' tap and hold 'o' and then slide your finger to that symbol.²

Add a new keyboard
Studying a language with a different writing system? You might want to add that language's keyboard to your device. This will let you type easily in the language you're learning without changing your device's language settings.
Here's where you can find instructions for adding a new keyboard to your device:
Hangeul (for 🇰🇷 Korean)
On Windows, choose 한국어 Korean when setting up your keyboard, and opt for Handwriting. On macOS, select 2-set Korean. Each key corresponds to a specific consonant or vowel in Hangeul.

For iPhones, iPads, and Android devices, use the Korean → Standard keyboard (not the 10 Key keyboard).
For Android, add 한국어 if you are setting up the keyboard from your device settings, or Korean → 2-bulsik when using Gboard, the virtual keyboard app.
Typing on some Android devices might look a little different from an iPhone, as shown below: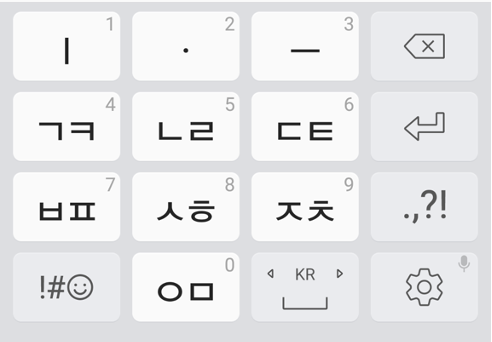 In this type of keyboard layout, the '.' on the '2' key represents the dash in vowels ㅏ, ㅓ, ㅗ, and ㅜ. So, to type the vowel ㅏ, you would type 'ㅣ' + '.'.
Here are some examples of how you would type each syllable:
사

=

ㅅ

>

ㅣ

>

.
소

=

ㅅ

>

.

>

ㅡ
셔

=

ㅅ

>

.

>

.

>

ㅣ
솨

=

ㅅ

>

.

>

ㅡ

>

ㅣ

>

.
Hiragana (for 🇯🇵 Japanese)
In Windows, go to Settings > Time and Language > Region and language > Add a language. Choose 日本語 Japanese and click Next. Unselect the Set as my Windows display language checkbox, and make sure Handwriting is selected.
On macOS, select Hiragana.
On mobile devices, use the Japanese - Romaji keyboard.
Cyrillic alphabet (for 🇷🇺 Russian)
You can either use a standard Cyrillic keyboard or a phonetic keyboard that matches Russian letters to similar-sounding Latin letters.
When following the Add a New Keyboard instructions above, select Russian.
Simplified Chinese characters (for 🇨🇳 Chinese)
Select 中文(简体) Chinese Simplified when setting up your keyboard.
Arabic script (for 🇸🇦 Arabic)
Select العربية Arabic when setting up your keyboard.
Switch between keyboards
Once your keyboards have been added to your device, you can switch between them as you wish. Here's how:
---
¹ Image showing keys displayed in the French course as an example.
² Although the example image shows a keyboard on an iOS device, this is also the case for most Android devices.